CARDIOTABS REWARDS PROGRAM
CARDIO CASH


ADDITIONAL WAYS TO EARN CARDIO CASH

REFER A FRIEND

THEY SAVE $20 & YOU EARN $20
WORTH OF CARDIO CASH!

Refer your friends and have them save $20 on their first order while you earn $20 in Cardio Cash after their first order is shipped. There are three ways for you to refer your friends. All three methods are found under My Account, My Referrals.

1) Send them a unique referral link that is tied to you. Once the link is opened, they create an account and place an order which is tied to you.

2) Provide them a unique referral code. Upon creating an account, they will be asked to provide a referral code.

3) Send them an email directly from your Cardiotabs account. The email will have your unique link inside and instructions for them to follow.

It is important for your friends to create an account immediately following your invitation. This will ensure their account is tied to yours and they receive their discount. Upon creating an account, they will automatically receive a $20 coupon at checkout. Please do not try to enter a different or separate coupon code to avoid any issues. This coupon ALSO cannot be combined with other offers or special pricing. Once their order is placed and shipped, you will earn your 2,000 Cardio Cash equivalent to $20 at Cardiotabs.com

This program is eligible for new customers only.
HOW TO REDEEM YOUR CARDIO CASH
Follow the Simple Steps Below to Redeem Your Cardio Cash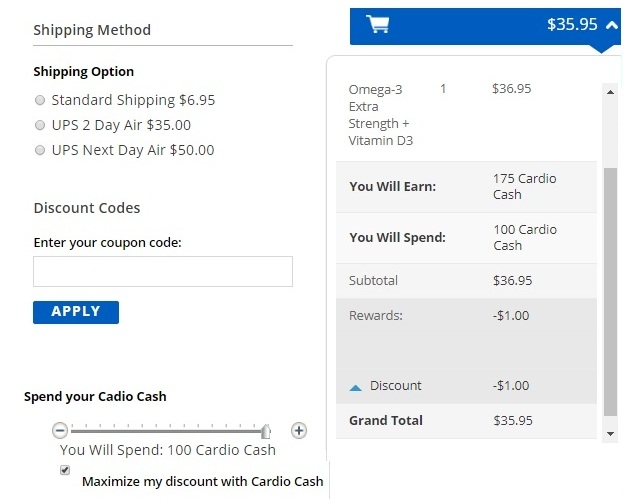 STEP 1 - LOGIN TO YOUR ACCOUNT
Click on "My Account" then click on

Log In

on the top navigation menu. Login to your account. Click on My Cardio Cash and Rewards.
STEP 2 - PURCHASE PRODUCTS AS NORMAL
Under Account Dashboard, click on My Cardio Cash and Rewards to get a detailed breakdown of how you earned your Cardio Cash. In order to redeem them, simply add the products you require to your cart.
STEP 3 - REDEEM YOUR CARDIO CASH
After you're logged into your account and added products to your cart, use the slider tool (see image right) on the checkout page to see how much Cardio Cash you want to spend on your order.
FREQUENTLY ASKED QUESTIONS
What is the Cardiotabs Rewards Program?
Cardiotabs Rewards Program is a loyalty program where you can earn Cardio Cash for making purchases on cardiotabs.com, reviewing your favorite products, signing up for an account and more ways to come!
How can I join the Cardiotabs Rewards Program?
You may either create an account or login to your existing account and Cardio Cash will automatically accrue.
Who can join the Cardiotabs Rewards Program?
All customers may join the loyalty program. Retailers are exempt.
Does the Cardiotabs Rewards Program cost to join?
No, the loyalty program is free.
How do I earn Cardio Cash?
Currently, there are three easy ways to earn Cardio Cash. For every dollar you spend, you will earn 5 Cardio Cash. Cardio Cash will reflect purchase total after discount. This excludes taxes, shipping and handling. Creating an account will earn you 100 Cardio Cash and reviewing a product will earn you 300 Cardio Cash.
How long will it take to see all of my Cardio Cash?
You will see all of your current and new Cardio Cash in your loyalty account once the action you have taken has been completed. You will receive your Cardio Cash from your order once it has been marked complete and shipped. If you are to cancel or refund your order, your Cardio Cash will be reset to 0 earned and 0 spent.
When can I use my Cardio Cash after reviewing a product?
Once a review is submitted, a Cardiotabs staff member will inspect it for compliancy. When the review is approved and published then the Cardio Cash will be added to your account.
Is there a maximum amount of reviews I can submit?
Yes, there is a maximum of 5 reviews that may be submitted per week to earn Cardio Cash. You may only submit one review per product.
Does my Cardio Cash expire?
Yes, Cardio Cash expires after 120 days of earning them, however, as long as Cardio Cash continues to be earned, all Cardio Cash will renew for 120 days. For example: You create an order on January 1st. Your Cardio Cash expires 120 days afterwards on April 30th. If you purchase again on March 1st all Cardio Cash will have an expiration date of June 30th.
What can I redeem Cardio Cash on?
Cardio Cash may be used on every product.
How does Cardio Cash work with automatic delivery orders?
Each Auto Delivery order will earn Cardio Cash based on the product's discounted Auto Delivery price. However, Cardio Cash may only be used on stand-alone orders. We are working on updating this process and apologize for the inconvenience.
If I have enough cardio cash in my account, can I redeem it for a product free of charge?
While it is possible to redeem enough cardio cash to reduce your product price to $0, shipping/handling and tax may still be associated with the order. Cardio Cash may only be redeemed on the price of the product.